Life
(1910 - 1974)

Most of the story of Tom Rolt's life is manifest in the books he wrote, but it is worth highlighting his pioneering work and enthusiasms in so many different fields.
Tom Rolt was one of the first people in modern Britain to draw attention to the value of our canals as a means of transport and a source of pleasure. Britain's network of canals, so important in the eighteenth and nineteenth centuries, had been neglected and almost forgotten in the twentieth and was in danger of total extinction. In 1946, Tom, along with a group of of enthusiasts inspired by his book Narrow Boat, founded the Inland Waterways Association (IWA) to restore and revitalise canals.
As with canals, so with neglected railways. Rolt set up the first organisation to save and run a railway with a mainly volunteer workforce. The Talyllyn Railway Preservation Society was established in 1951 to save the Talyllyn Railway in mid-Wales.
A lover of craftsmanship in motor cars, Rolt was joint founder of The Vintage Sports Car Club (VSCC) in 1934 and founder of the Prescott Hill Climb, now owned by the Bugatti Owners Club. Among the cars he bought were two GN 'Popular's, a 1903 Humber and an Alvis 'Duck's Back' which was his main form of transport throughout his life.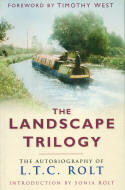 Long before the current green movement, Tom Rolt was aware of the importance of considering our environment. In the 1930's he was writing about the relationship between modern technology and the natural world, in many periodicals and notably in his book High Horse Riderless.
See also the
Autobiography
page, which describes his three-volume autobiography, now re-issued as Landscape Trilogy
Tom Rolt played an important role in the Newcomen Society, a society for the study of the history of engineering and technology. As a tribute to Rolt's work in developing the history of technology and industrial archaeology, the Newcomen Society established a Rolt Prize in his memory.
Among Rolt's other associations and honours:
Honorary MA from the University of Newcastle
Honorary MSc from the University of Bath, which has a Rolt Fellowship
Fellow of the Royal Society of Literature
Trustee of the Science Museum in London
Member of the Advisory Council of the Science Museum
Helped form the Iron Bridge Gorge Museum Trust
Joint founder of the Association for Industrial Archaeology, which has an annual Rolt lecture