Chester IWA centenary rally
A gathering of narrow boats took place in June 2010 at Tower Wharf Chester, with over seventy boats in attendance, including the narrow-boat 'Heron' which had set out from Banbury, Oxfordshire on the 24th April, to re-enact the 1939
Cressy voyage
.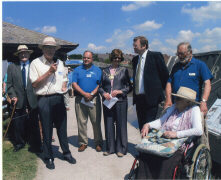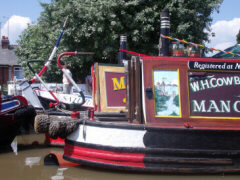 On the towpath at Chester. Left to right: David Wayne; District IWA Branch Chairman Brian Phillips making a speech; Clive Henderson,National Chairman Inland Waterways Association; Chester High Sherriff, Pat Lott; local MP, Stephen Mosley; David Stephenson; Sonia Rolt
Also present were the steam engine,
Tom Rolt
, brought from the Talyllyn Railway, and a hydrogen-powered concept boat, the
Ross Barlow
, from Birmingham University. The weekend also included a small representation of vintage cars including Tomís 12/50 Alvis, and a celebration dinner, hosted by Chester IWA, in the Guildhall. A commemorative plaque was unveiled on the house where Tom was born. The plaque was paid for by The Newcomen Society, and the event was made possible by Sir Neil Cossons OBE, Geoff Wallace, and with the kind permissions of the owner and tenant.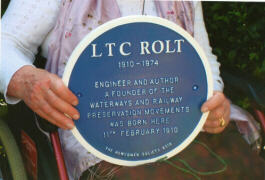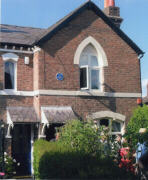 Sonia holds the blue plaque, ready to be placed on the house in Chester where Tom Rolt was born